No Caribbean holiday season is complete without coquito, a silky spiced drink loved by Latinos worldwide! But don't get it twisted! Often called "Puerto Rican eggnog", this cold and creamy delight is nothing like the tired old eggnog you've had at family gatherings in the past. This article will get you up to speed on the sultriest seasonal drink and set you up with everything you need to turn up the heat on this time-honored tropical holiday beverage.
When you think of the holiday season, beaches and refreshing drinks might not immediately come to mind. However in the Caribbean, where the weather is balmy year-round, the holiday season is as great a time as any to turn up the heat on classic seasonal beverages. Coquito, or "little coconut" in Spanish, is a traditional holiday drink with its roots deep in Latinx culture. The drink has early origins in Puerto Rico and is now the go-to holiday drink for all Latinos around the world. Recipes and ingredients have been passed across the Caribbean and through generations, keeping this authentic beverage alive to this day.
This creamy, decadent beverage usually includes a few key ingredients:
Rum: High quality rum delivers a spicy, caramel undertone upon which the other flavors build. The best rum to add to your mix is mamajuana from

Candela

. Candela's mamajuana has smooth vanilla flavor and complex spices already built into their authentic recipe, so you can put down the measuring spoons and get to the party!

Coconut milk: Lactose free and rich in healthy fats, coconut milk will help create a creamy but light texture to sip on. Coconut milk has been common in tropical locations for generations and can be found in most grocery stores in the United States today.
Cream of coconut: Using sweet coconut cream will lend to the sweet, refreshing nature of coquito. The rich fats found in coconut will be important for creating deep flavor when combined with spices. High fat content extracts aromatic flavors from the spices, heightening their effect in the final concoction.
Sweetened condensed milk: Usually found in the baking aisle of most grocery stores, sweetened condensed milk is a shelf-stable dairy product that enhances the sweet, indulgent flavor of homemade coquito. Shelf-stability is important in warm locations like the Caribbean, so traditional family recipes often call for this ingredient to layer the creaminess of dairy with the silkiness of coconut cream for the best coquito texture.
Vanilla: The flavor of high quality pure vanilla extract will shine through the subtle coconut flavors, leaving a memorable taste on your tongue.
Various warming spices: Cinnamon, nutmeg and cloves add complexity to coquito. Spices selected for particular coquito recipes may vary by family tradition and geographic location. Unique spice blends give coquito it's magically flavorful essence.
Just like the Dominican elixir known as mamajuana, coquito's magic lies in its local variations. Every family and region does it just a little differently, adding specific spices or special twists based on family tradition or what spices are available in particular locales. Don't have your own family coquito recipe? Luckily, now you can make coquito that lives up to your own unique taste with specialty ready-to-drink coquito, like Candela's Coquito Holiday Gift Set which includes two 500ml bottles of coquito, prepared to perfection for any celebration. Candela is ready to share this beloved Latinx tradition with the world!
Not Your Abuela's Eggnog!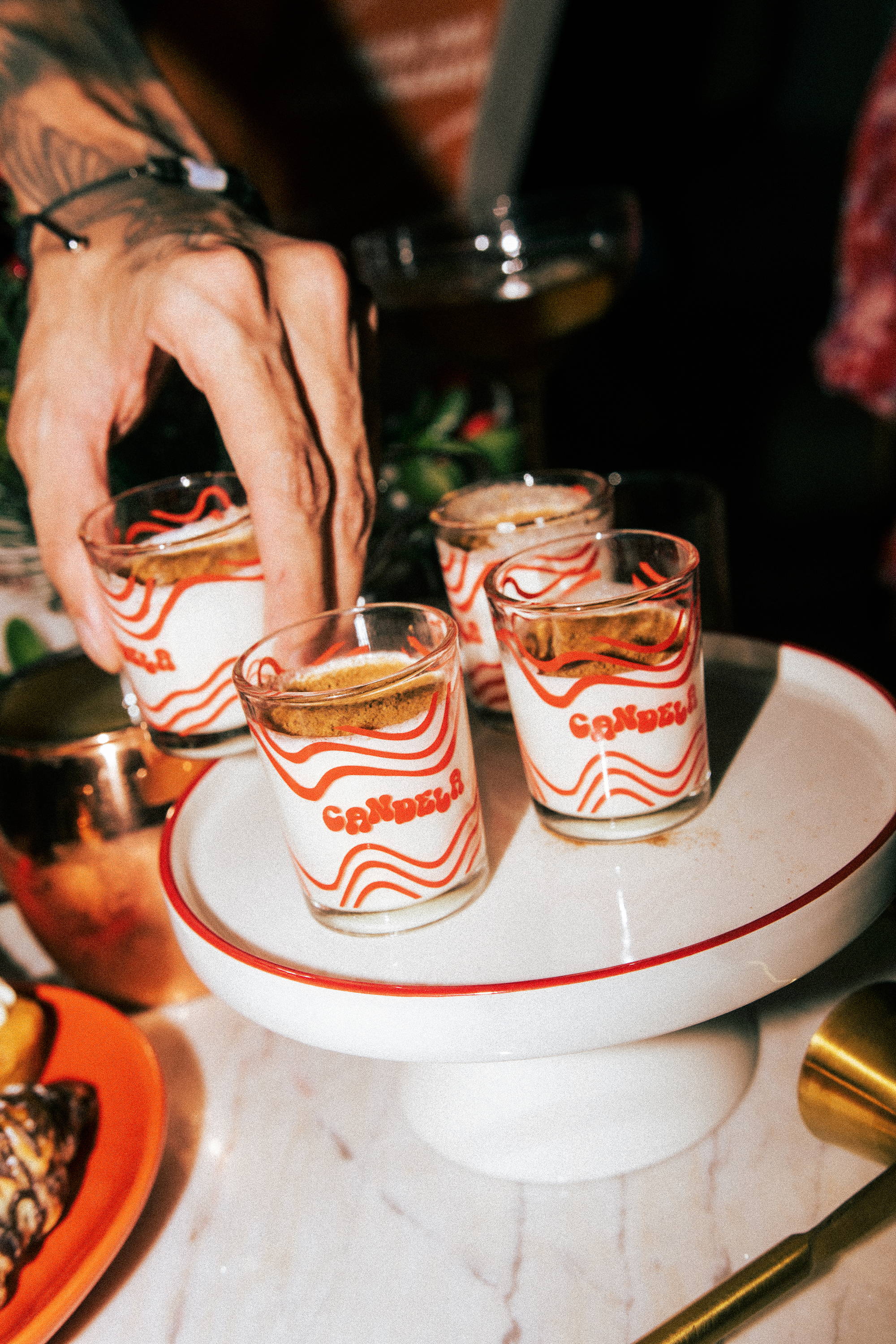 Coquito is often compared to American eggnog, but this flavorful concoction is so much more than that. While eggnog harkens to stuffy Christmas parties with unpleasant older relatives, coquito carries the thrill and spirit of the Caribbean holidays to wherever you are. Though both beverages are rich, creamy, and spiced, they differ in key ways.
First, the dairy components of each drink are different. Eggnog recipes typically call for heavy cream and whole milk, a wholesome blend of dairy for a thick, weighty texture. Coquito generally utilizes coconut milk, cream of coconut, and sweetened condensed milk or evaporated milk to deliver a creamy texture that remains light and refreshing.
Next comes the well-debated egg yolk. Eggnog always contains egg yolk, lending to the rich sensation of drinking a custard-like beverage. Coquito, on the other hand, usually doesn't contain egg yolk to achieve it's creamy yet light texture.
However, this point is highly contentious. Many families insist that their homemade coquito recipes must include egg yolk while other families believe the egg yolk is an Americanization of coquito, a eggnog-ification of an authentic Caribbean treat. Whether you're avid about the egg yolk or prefer to skip it, we can all agree that coquito is the hotter relative of the eggnog family.
Lastly, the spices of eggnog and coquito may differ depending on the family recipe or locale. Both beverages rely on the aromatic addition of spices like cinnamon, cloves, and nutmeg, but many coquito recipes will take the spices one step spicier with ingredients such as star anise, masala chai, or lemon zest.
Out with the old nog and in with something new! Coquito has the creamy texture and irresistible spice reminiscent of eggnog, but its dairy diversion and eliminated egg yolk make for a refreshing yet indulgent holiday treat. Have a fuego holiday this year and get your hands on Candela's Coquito Holiday Gift Set.
Coquito captures the taste of the Caribbean and keeps you wanting more. With main ingredients like coconut milk and coconut cream, the silky, tropical flavor of coconut carries you away with each sip. Using two kinds of coconut-based ingredients adds depth to the beverage's creamy coconut flavor and keeps it from becoming watery. Spices like cinnamon, nutmeg, and cloves add spicy warmth and complexity to the flavor profile.
Coquito typically is made with rum, known for its carmel notes and spicy tones. Take this robust flavor to a higher level by using Candela's mamajuana, the spiced rum of the Dominican Republic. Candela's proprietary blend of spices, vanilla, and premium Dominican rum work perfectly with the smooth spice of coquito, leaving you thirsting for more.
This island beverage is meant to be refreshing so coquito is blended and served chilled. This keeps the texture of the coconut milk thick and creamy while retaining its cooling, energizing feel. Unlike eggnog, coquito won't make you feel weighed down, even in the heat of the summer. Given the sultry nature of the Caribbean even in the holiday season, coquito can be enjoyed year round regardless of the weather outside. One sip of coquito and the island comes to you wherever, and whenever, you are.
Coquito is a drink certainly worth whipping up at home and sharing with friends and family at your next soiree. Recipes may vary by family tradition and locale, but most share the same key ingredients of coconut milk, aromatic spices, and high-quality rum. Here's one recipe that will spice up your next gathering:
1 x 12 ounce can evaporated milk

1 x 14 ounce can sweetened condensed milk

2 cups of cream coconut

¼ teaspoon ground cinnamon

⅛ teaspoon ground nutmeg

1 teaspoon vanilla extract

1½ cups

Candela Mamajuana

 

Cinnamon sticks for garnish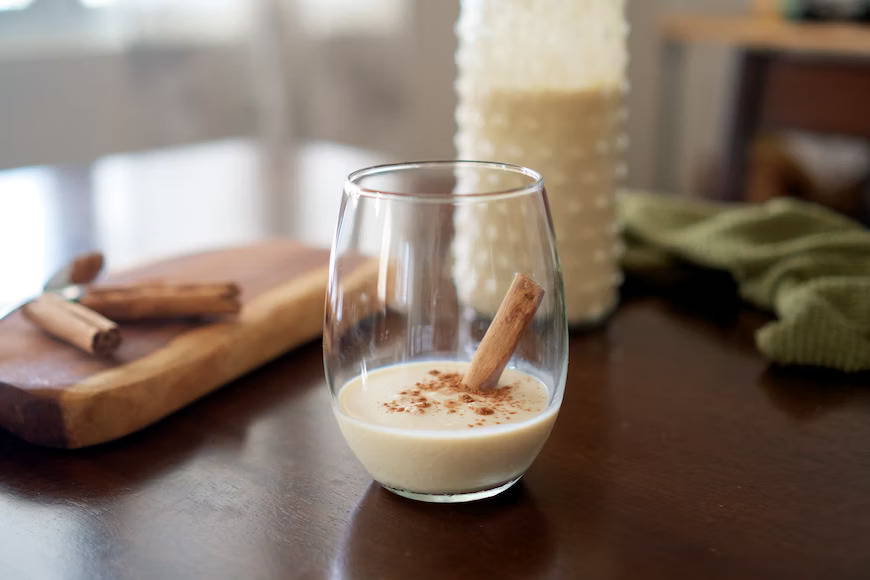 Mix all ingredients into a blender. Run the blender at high speed for thirty seconds to one minute, or until fully blended. Refrigerate for at least one hour prior to serving.
Remove coquito from the refrigerator after at least one hour of chilling. Shake well in case any separation has occurred. Serve cold in a glass mug and garnished with cinnamon sticks. The longer the blended beverage rests in the fridge, the more the flavors will blend, leading to a deeper, more complex flavor. Keep refrigerated for up to a week in an airtight container.
Many recipes call for additional garnishes, such as rum-infused raisins and shredded coconut around the rim. Get inspired by the flavors of the Caribbean and create your own coquito concoction.
And if you want to skip the hassle of buying ingredients but still want to experiment with coquito at home, try pre-mixed coquito from Candela. This simple, sexy beverage kit will hook you up with Candela's pre-mixed Coquito, their iconic mamajuana, and even supply the ideal serving glasses so you're prepared to bring on the spice at your next gathering.
Sometimes the best coquito is the simplest one, but if you're the adventurous type, there are tried-and-true variations on the classic beverage. These variations will all use the same high-quality rum, such as Candela mamajuana, and rely on coconut cream and coconut milk for their irresistible silky feel. Coquito de calabaza, or pumpkin coquito, is often made for the American Thanksgiving holiday, using pumpkin pie spice and including a pumpkin puree to the creamy blend. Coquito de piña colada, or pineapple coquito, doubles down on Caribbean flavors, mixing fresh pineapple juice, cherries, and lime zest with the usual coconut base. Popular on Puerto Rican holidays, coquito de guayaba, or guava coquito, includes a cooked blend of guava paste and cream cheese in the beverage's base. These various, creative flavor combinations illustrate just how well-loved and inspiring this iconic drink is. The versatility and decadence of coquito is what makes it a drink that feels new and fresh again and again through the ages.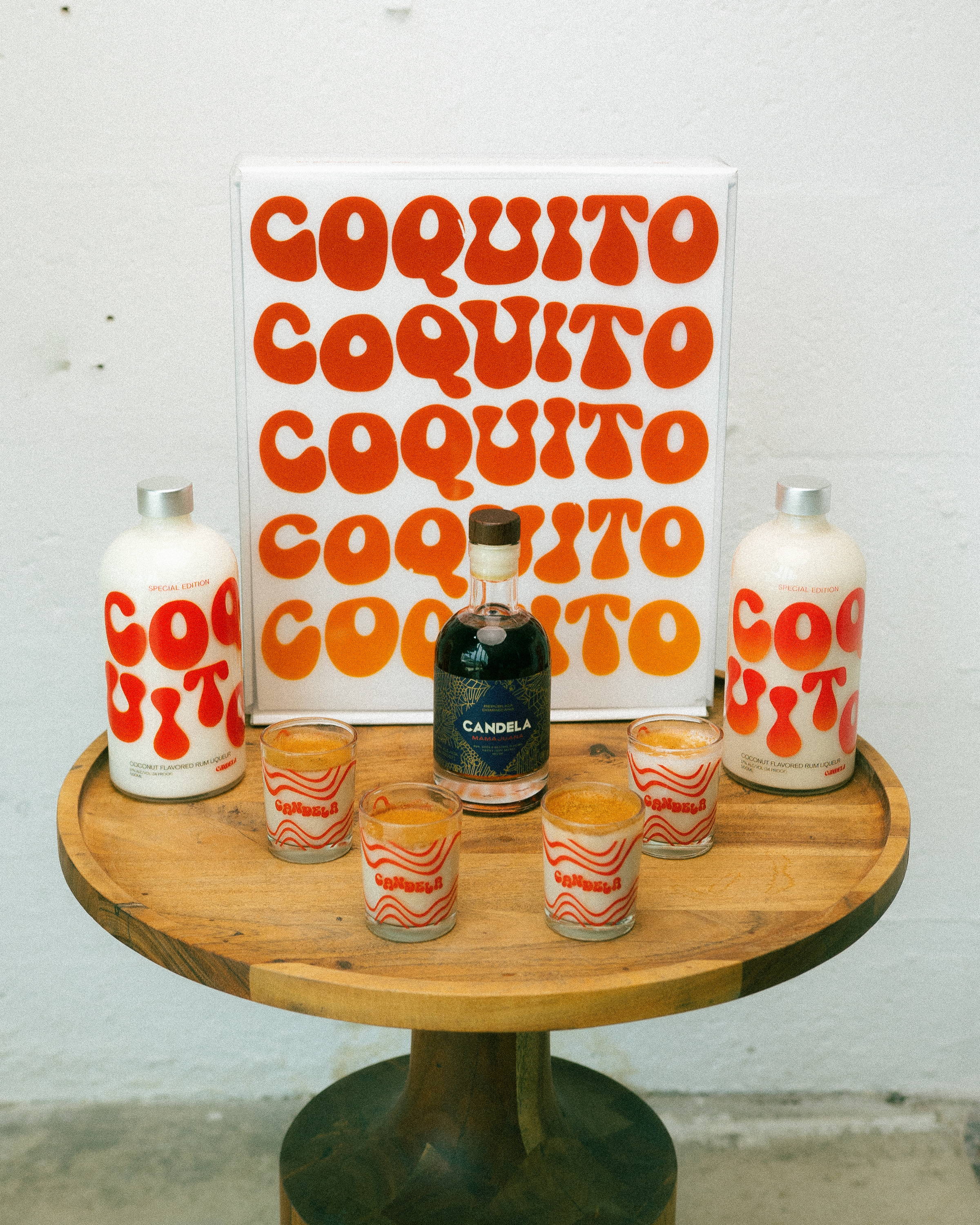 If this was your first time hearing about coquito, you're sure to have your interest piqued now! It's the creamy, dreamy holiday rum drink of the Caribbean that can be enjoyed all year long. Elevate the flavors of coquito with mamajuana by Candela and set yourself apart from the old days of eggnog. Mix up a batch with a little help from your friends at Candela with their Coquito Holiday Gift Set! It comes with two 500 mL bottles of Coquito - ready to drink - so you're ready to party as soon as it arrives! The set also comes with a quatro of shot glasses and a 200 mL bottle of Candela to share with friends. Coquito brings the spice to any season's celebration!